• Custom-made Agency Publications
• Custom-made Tabloid Inserts
• Custom-made Magazines
• Catalogs/Brochures
• E-Newsletters
• E-Blasts
• Landing Pages
• Personalized Quarterly Publications
• Full-Color Newsletters
• Corporate Identity/Branding
• Logo Design/Redesign
• Collateral
• Flyers & Invitations
• Direct Mail Promotions
---
SELF-MAILERS
8-page booklet or 4, 6 or 8-panel roll-fold or gate folded brochure with a mailing panel on the back.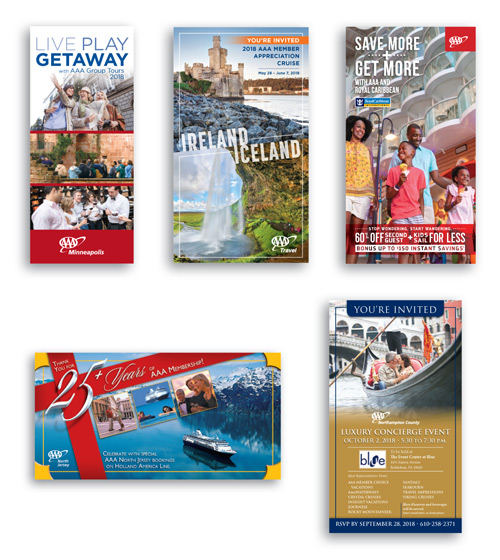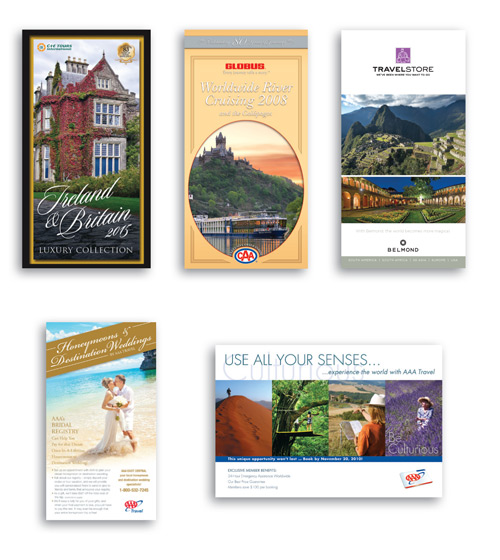 ---
AAA NOW!
AAA Now! is a 24-page, custom designed publication for AAA and CAA Clubs.
Published four or six times a year, this 10.5" x 12" magazine serves as an invaluable marketing tool for AAA/CAA clubs who are looking for a broader-ranged, more efficient approach to reaching their members. Custom designed specifically for each participating club, all 24 pages of AAA Now! includes only what that club wants featured; their preferred partners offers, their club's event listings, stories from their members…the opportunities are endless since the publication is completely their own.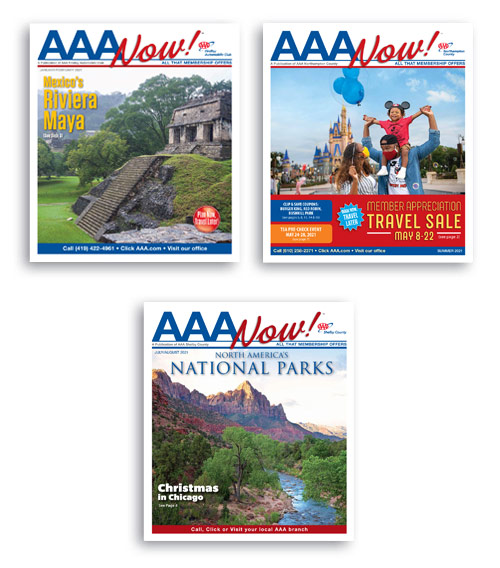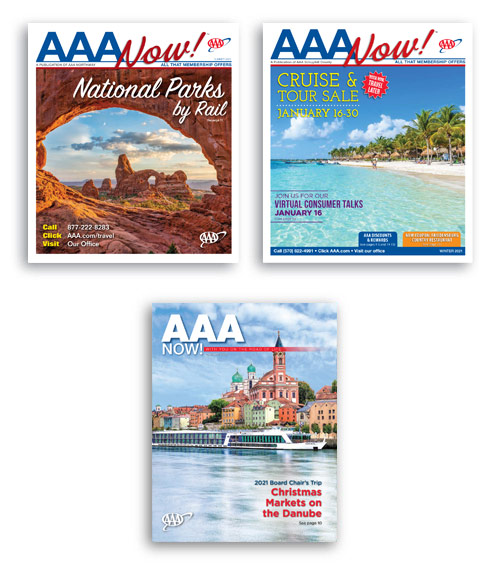 ---
DESTINATIONS
Destinations is a customizable, 12-16 page newsletter, published 3 times a year exclusively for American Express Travel Service Representative Agencies. Featuring regionalized content and offers (West Coast, Southwest/TX, and East/Mid North Central) this marketing tool is direct mailed, inserted into regional dailies and distributed within travel agencies. Each American Express Travel Agency has their own customized front and back covers as well as a custom made, two-page centerspread.
Visit www.xstravelnews.com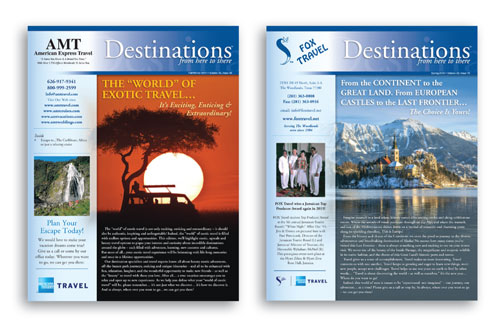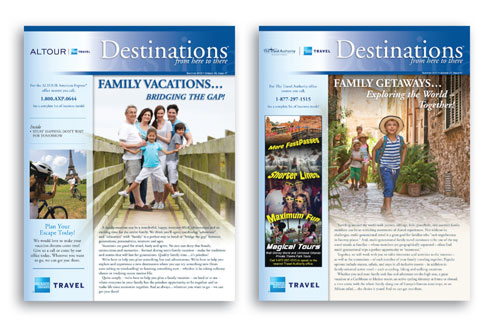 ---
CRUISE & TOUR PROMOTIONS
4- to 12-page, 10.5" x 12" tabloids can be paired with additional collateral such as: flyers, ads, posters, postcards, etc. for a fully emersed marketing campaign.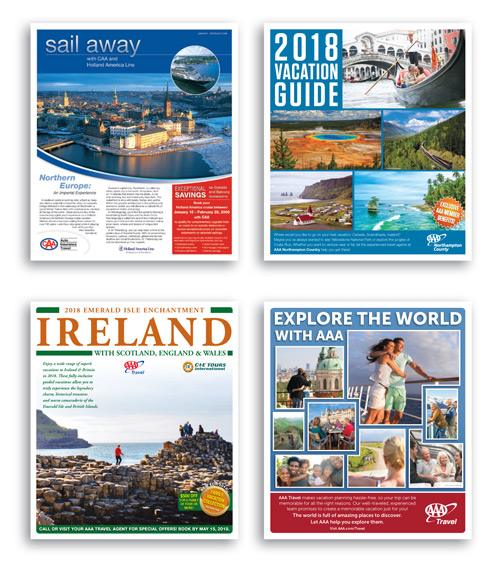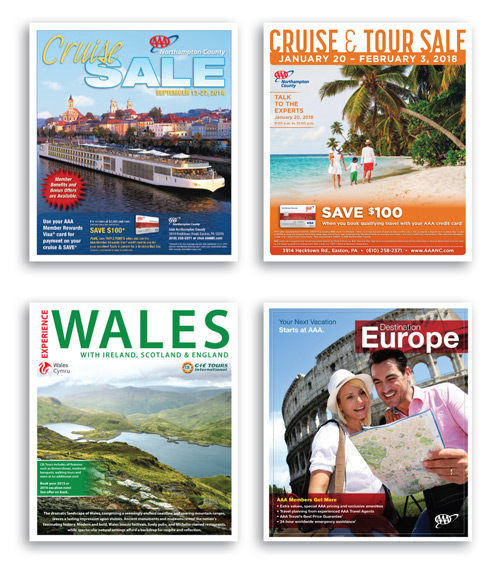 ---
EMAIL PROMOTIONS
Let us create and deploy your e-marketing campaign for you! From e-blasts to e-newsletters, we can create it all.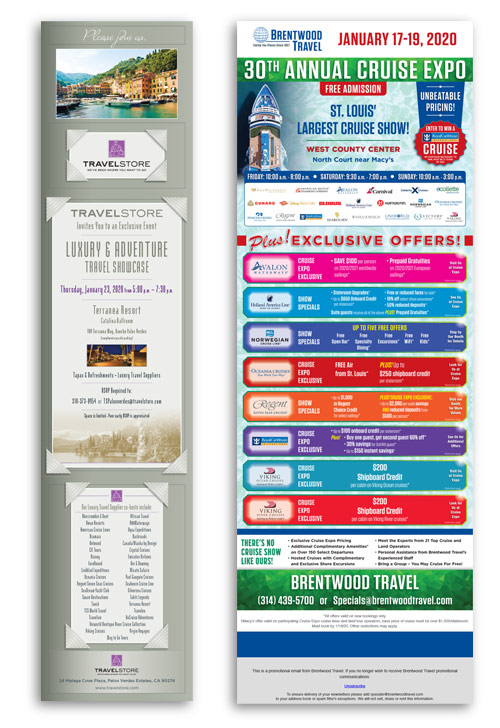 ---
BROCHURES & CATALOGS
8-32 page, self cover or plus cover brochures and catalogs designed for any promotion.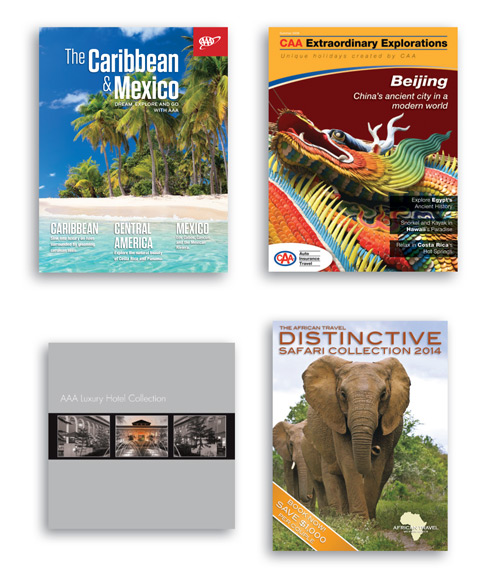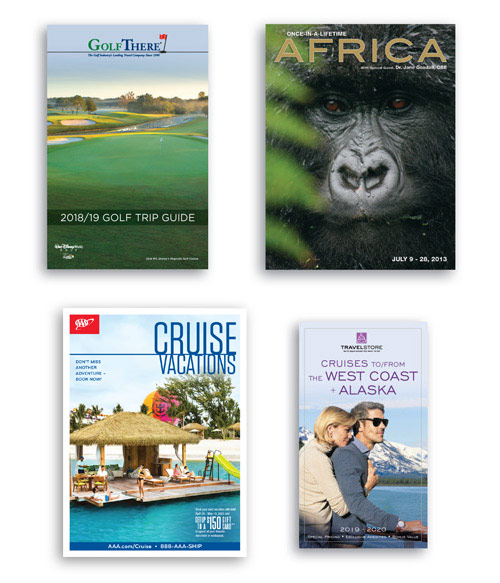 ---
POSTCARDS
6 x 9 or 6 x 11, postcards designed as a standalone promotion or to enhance a multi-prong campaign. Mailing is available too.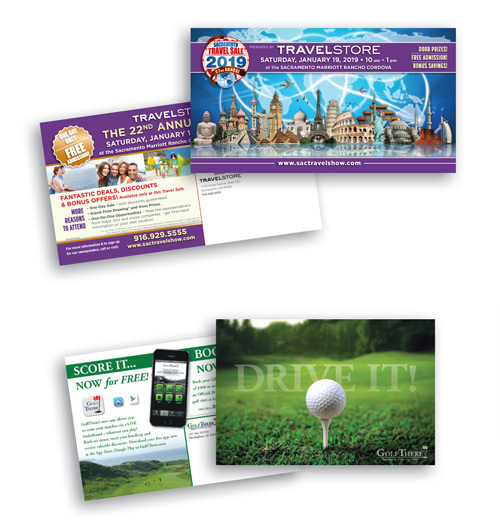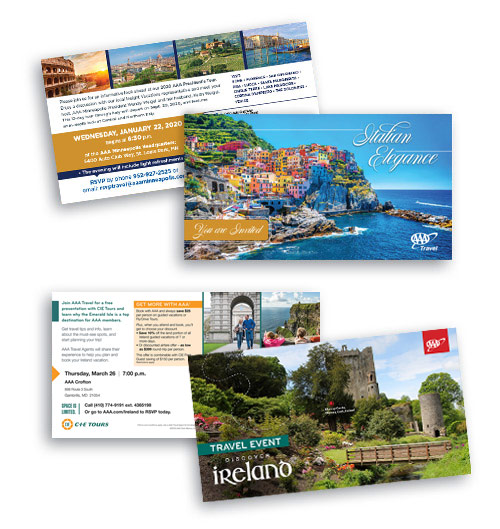 ---
MAGAZINE & NEWSPAPER ADS
Full-color or black & white ads for magazines and newspapers.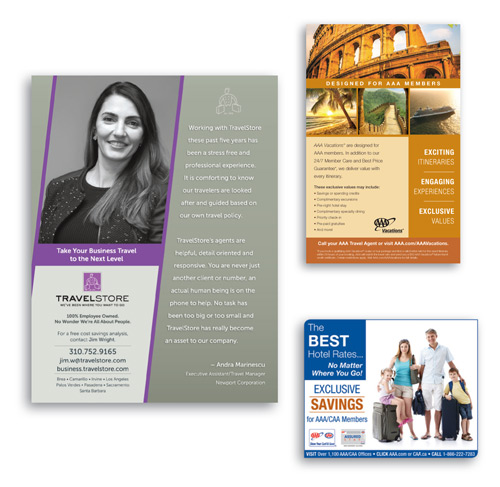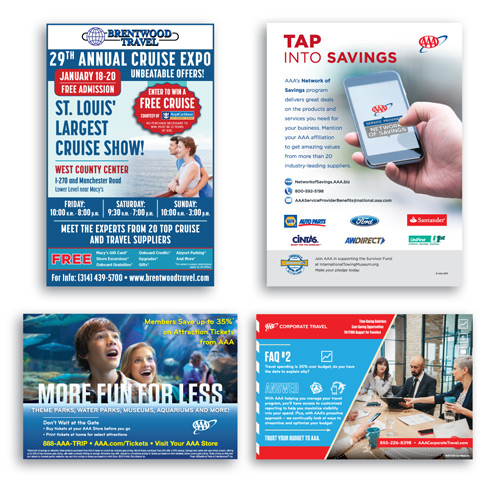 ---
LOGO DESIGN AND CORPORATE & MEETING COLLATERAL
From logo design or redesign to stationary, branded business collateral and meeting collateral, we can design it all for you.
---
MISCELLANEOUS
Let us know what your project is, we can probably do it.